Dear Guy,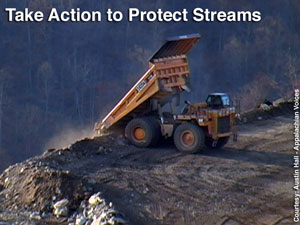 As a parting gift to Big Coal, in late 2008 the Bush administration gutted the Stream Buffer Zone rule, which protected our nation's streams and waterways from the worst coal industry abuses.
The old rule was a good rule - but it was never properly enforced. Today, however, instead of reinstating and enforcing the old stream buffer zone rule, the Obama administration is proposing totally new guidelines that would regulate how -- and whether -- America's streams can be filled with waste from mining operations.
But before they'll write the new regulations, the administration has decided to gather information for an Environmental Impact Statement. To that end, the Office of Surface Mining Reclamation and Enforcement (OSMRE) is requesting your opinion on what requirements a new stream protection rule should include.
Click hear to comment today and demand that our streams stay clean of toxic mining waste:
http://ilovemountains.org/stream-protection/
This is a tremendous opportunity to make your voice heard on the kind of protections our streams deserve -- before the rule is written.
Please, take just a few minutes today to make sure that your views are taken into account and our streams are protected from the devastation of mountaintop removal coal mining.
Click hear to submit your comments today.
Thank you for taking action.
Matt Wasson
iLoveMountains.org
P.S. -- Please help us spread the word on Facebook, or follow us on Twitter.
You are receiving this message because you expressed an interest in ending mountaintop removal coal mining to one of the partner organizations of www.iLoveMountains.org. To modify your subscription preferences, click here.